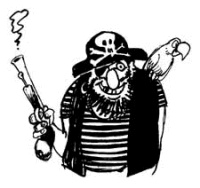 The recording and film industries in Mexico have joined forces by forming the
Asociación Protectora de Cine y Música México (APCM)
. It has been setup to tackle the problems of both disc and digital piracy in the country. Mexico is one of the major markets for music and film in Latin America, and as such, has one of the most serious piracy problems globally.
The country is most affected by
CD
and
DVD
piracy, with a 65% music piracy rate in 2006 and an illegal market worth US$180 million. Mexico also has a growing digital piracy problem. Today's move follows the successful combination of the anti-piracy efforts of the recording and film industries in Brazil in April 2007.
"We are very enthusiastic about this association. We firmly believe that through the union of our forces in Mexico via APCM, we can obtain better results than the ones that could be obtained by our entities individually
", said
John Malcolm
, Executive Vice president and Director of Anti-piracy International Operations of the
Motion Picture Associati
on.
"The fact that the Attorney General's Office supports this merge between both industries' anti-piracy teams is a clear signal that we are going the right way. We have a lot of faith that this project will be a complete success, and will serve as an example for other countries and institutions to imitate"
, says
Mr. Vázquez
, General Director of
IFPI Latin America
.
---
Get regular news updates from AfterDawn.com by
subscribing to our RSS feeds
using the
Subscribe
button below. If you have been living in a cave for a few years now and don't know how to use RSS feeds, then
Click Here to read a Guide on how to use RSS (and other) feeds
.