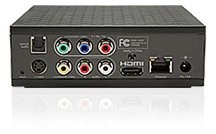 Roku
has announced that it will be bringing more
streaming
content providers to its new
set-top box
soon, allowing users to have more content than just movies and TV from
Netflix.
The Roku box has been very popular since its release, even though only 10 percent of Netflix's content is available for streaming and the quality is just under
DVD
. When the support for other content providers hits, Roku will have the first box to offer content from more than one source. Currently
AppleTV
and
Vudu
still offer content from a single source.
Netflix continues to
add
content daily to its streaming service and over time hopes to have most of its catalog available. If Roku owners can be patient, then the cheap feature heavy set-top box can be a very useful piece of technology in the future.