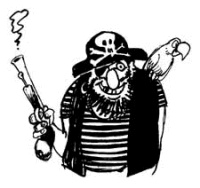 The G8 Summit began today in Tokyo, Japan. Among the topics expected to be discussed is the controversial Anti-Counterfeiting Trade Agreement (
ACTA
) treaty proposal drafted in secret primarily by the office of the US Trade Representative and legislators from Californiia. Not surprisingly, the California lawmakers are well known for supporting just about any legislation that increases the term or scope of copyright or strengthens penaitles for infringement.
Despite some
attention from websites like Afterdawn
, public interest groups like the
Electronic Frontier Foundation
, and
news publications in Canada
we don't really know anything more now than we did when a draft of the proposal was first published by the watchdog site
Wikileaks
.
Besides suggesting the controversial move of making law enforcement responsible for investigating and prosecuting intellectual property infringement, the proposal has come under fire for the exclusive group of countries included in the initial discussions. Unlike the
World Intellectual Property Organization
(
WIPO
) or World Trade Organization (WTO), every member of the G8 have businesses that derive a significant amount of revenue from intellectual property.
Although representatives of non-G8 countries will be in attendance at the summit, with the secrecy surrounding the entire issue of the
ACTA
treaty there's no way to know whether any of them will be consulted or even briefed on any relevant discussions. In fact the description on the event's official website is merely a mention that
"protection of intellectual property rights"
will be
"discussed."