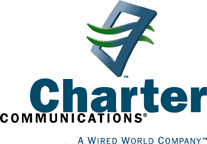 Following yesterday's news
that Time Warner was expanding their metered Internet trials to a few new cities
,
Charter Communications
has also announced that they will be introducing
bandwidth
caps on their cable Internet service.
Charter, the fourth largest cable company in the US, will set tiered caps, meaning "customers who purchase speeds of up to 15 Mbps to 100 gigabytes a month, while those who purchase up to 25 Mbps will be capped at 250 gigabytes. People who pay for speeds up of to 60 Mbps will not face any limits."
Added
a Charter spokesperson:
"More than 99% of current Charter Internet customers use less bandwidth than the threshold allows and therefore will not need to change their surfing habits in any manner."
Critics, such as Derek Turner, the research director of Free Press, does not believe that only 1 percent of all users pass the threshold and that bandwidth consumption will continue to grow thanks to digital downloads from
iTunes
and
Netflix
and the ever popular
YouTube,
which now offers videos in 720p resolution.