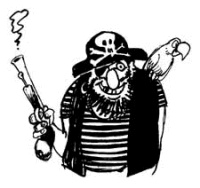 According to new reports coming out of France, any
ISP
willing to join the
RIAA
in its
"three strikes" your out laws against piracy
will have to spend a lot of money to enforce the rules, as much as 16 million USD per year.
Although the laws have
been struck down by the EP
and the
German government
, they have been adopted
in New Zealand
and
is moving towards adoption in France
, where
President Nicolas Sarkozy is a big proponent
.
The 'three strikes' rules would give alleged pirates two email or written warnings from their ISP before they have their Internet connection completely shut off and their name blacklisted.
The French newspaper
La Liberation
added that if France were to adopt the rules, the bill
could
"trigger around 10,000 warning e-mails, 3000 letters and 1000 decisions about Internet cut-offs per day," forcing the ISPs to hire new workers and incur new costs.
Non-compliance with the RIAA and
MPAA
would also be expensive for the ISPs, as it is expected that any declined warning message will cost the ISPs a $6000 USD fine.