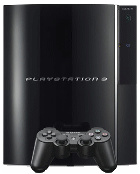 Although this is rumor for the time being, a
PlayStation Lifestyle
article is stating that
Sony
will introduce a newly 'redesigned'
PlayStation 3
at the upcoming
E3
event,
alongside the imminent release of the PSP Go!
updated handheld.
There were no other specifics posted, but PSL posts a few possibilities including the fact that the redesign may just be new colors, such as white or silver to match current peripherals available.
Another interesting option is that the upcoming console will be a 'PS3 Slim,' adding some small updates such as Bluetooth 3.0. The console would also be lighter, and more streamlined, somewhat like the
PS2
Slim models and the updated
PSP
models.
We will keep you updated on any developments.