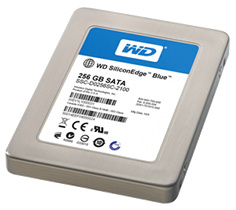 Today Western Digital announced a line of solid state 2.5 inch SATA hard drives called SiliconEdge Blue. The new drives include 64GB, 128GB & 256GB models.
The drives are intended to
"accelerate SSD technology adoption by OEMs, technology enthusiasts, gamers and road warriors,"
said Michael Hajeck, senior vice president and general manager of WD's solid state storage business unit.
Traditional hard drives are arguably the weakest point in most computers. Reliance on mechanical parts makes them somewhat fragile and also limits performance.
The SiliconEdge Blue drives boast a sustained read speed of 250MB per second, compared to 100MB per second for Western Digital's fastest disk-based 2.5 inch drives in the Scorpio Black line. It's also a significant upgrade from 138MB per second for their best high performance desktop drive, the Caviar Black.
Sustained write speed isn't as good, which is normal for solid state storage. At 140MB per second it edges out the Caviar Black and handily beats the Scorpio Black.
Of course that performance comes at a steep price. The 64GB model has a suggested retail price of $279 USD. The 128GB model is priced at $529 and 256GB will cost you $999.
They all come with a three-year limited warranty. That's also the expected life of the drives.
Besides transfer speed, solid state drives can offer power saving advantages. When a SiliconEdge Blue drive is idle it uses less power than any other Western Digital hard drive, something that's an important consideration for mobile users.
Power consumption while reading is essentially the same as Scorpio Black drives. Writing actually uses more than half again as much, unlike the Scorpio drives where it remains the same for reading and writing.
For desktop users just looking for better read performance they could be a good solution, but with hard drives of 1TB - 2TB becoming commonplace it would seem their practical applications would be limited.
Although not a solution for every problem, hopefully these drives can help solid state drive technology catch on. It's about time long term storage took a leap forward to catch up with other computer technology.