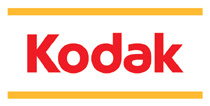 In January,
Eastman Kodak
said it was suing
RIM
and
Apple
over patent violations
relating to the cameras used in
BlackBerrys
and the
iPhone
.
Today, Apple countersued Kodak, accusing the film
pioneer
of violating two digital photography patents that Apple owns.
Apple has accused EK of violating patents 6,031,964 and RE38,911, which are
"a system and method for using a unified memory architecture to implement a digital camera device,"
and a
"modular digital image processing via an image processing chain with modifiable parameter controls."
Adds Kodak:
"As regards our intellectual property, Kodak has a long history of digital imaging innovation and we have invested hundreds of millions of dollars creating our industry-leading patent portfolio. We have an obligation to our shareholders and the other licensees to protect their interests. When others use our technology, we merely seek fair compensation for that use, in the same way that many other leading technology companies pay us to license Kodak technology."
Kodak currently has 1100 patents relating to digital photography technologies and licenses them to over 30 companies.