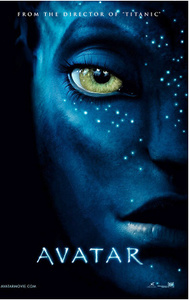 The world's highest grossing movie of all-time, the blockbuster
Avatar
, has now also become the fastest-selling
Blu-ray
disc of all-time, selling 2.7 million units in just four days.
The previous record holder was the blockbuster
The Dark Knight
, which has sold 2.5 million discs in 18 months.
Avatar, on
DVD
and Blu-ray has already sold upwards of 7 million units, putting it on
pace
to become the best-selling title of the decade.
20th Century Fox
, the distributor behind the film says cumulative first day sales were 3.2 million, with 2 million coming from DVD sales and the rest from Blu-ray. In recent memory, the Dark Knight launched with 2.7 million units (2.1 million on DVD) and Twilight: New
Moon
saw 4 million units sold in its first two days. Avatar's two-day number was around 5.5 million.
Says James Finn of Fox,
via Deadline
:
"Grocery and drug stores sold more Avatar [2D] in one day than they sold of The Dark Knight during its entire life on shelves. This shows that the audience for the home entertainment release far out weighs the fan boy base. It's a cultural phenomenon…again. Employees and customers alike are dressing up as Na'vis in stores around the country, and this is a home entertainment release like no other."

"My sources are telling me that Best Buy has sold twice as many Blu-ray players as they normally do since the biggest movie of all time landed in stores. Mass merchants are estimating that Avatar Blu-ray sales are north of 50%, a remarkable percentage for the format and for the home entertainment category. I'll have more of a read tomorrow morning, but Avatar [2D] is on track to do for Blu-ray what it did for 3D in theaters."
The 3D edition of the Blu-ray is expected to hit in early 2011.