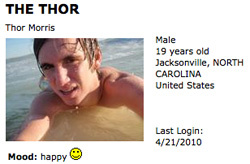 19-year old Thor Morris, a surfer from North Carolina, was arrested last month after his plans to hack dozens of ATM machines was undone by undercover FBI agents.
Morris was arrested after traveling to Houston in an attempt to steal about $300,000 from 35 different ATMs.
FBI agent Karen Ann Marinos said the suspect "planned to use a confidential operator's manual to reprogram a specific brand of ATM so that the machine would issue $20 for every $1 requested."
In an attempt to remain anonymous, Morris purchased a $400 "Walmart Green Dot PrePaid card," which would then be used to withdraw the money from each of the hacked machines. Morris used the alias "Barack Obama" and wore a "
Rick James Wig
," using an unsecured wireless hotspot to activate the card.
The card was activated as Barack Obama, with a Washington, D.C. address of "1600 Pennsylvania Avenue" to boot.
When Morris tried to re-program one of the machines in Houston, the FBI swooped in on him.
Read the full affidavit here:
http://www.thesmokinggun.com/archive/years/2010/0504101atm1.html