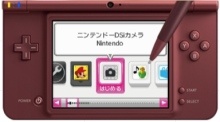 For the week ended May 17th, the
Nintendo DS
series of handhelds remains atop the Japanese hardware sales list, with the
Sony PSP
following close behind.
On an individual basis, however, the
PSP-3000
did hold the top spot, with 24,475 units sold.
The critically-hated
PSPGo
, which removes the
UMD
drive, and added little else, moved just 871 units for the period.
The
PlayStation 3
saw a jump to 20,463 units sold, pushing past the
Nintendo Wii
, which sold 17,570 for the week.
The new
DSi LL
, which has a screen increase of 93 percent from past models, continues to sell well.
Sales for week
ended May 17th:
*
PlayStation Portable
- 24,475
* PlayStation 3 - 20,463
*
Nintendo
Wii
- 17,570
*
DSi
LL - 15,879
* DSi - 9990
* Xbox 360 - 4370
*
DS Lite
- 2695
*
PlayStation 2
- 1293
* PSPgo - 871