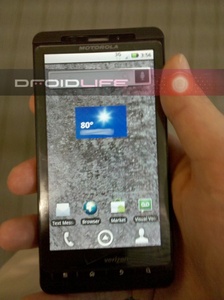 More details have leaked today about the
Motorola Xtreme
, the highly-anticipated sequel to the
Droid
smartphone.
The
Android
phone had been dubbed the "Shadow" for months.
Motorola's upcoming Xtreme will run a customized Android 2.1, possibly include the
MotoBLUR
UI, and will likely be released in late July.
The new details, from
Droidlife
say the device will sport an 8MP camera and
720p
video recording.
Additionally, the device will have a large 4.3-inch screen, 16GB of internal storage, a 1Ghz Snapdragon processor, and an HDMI-out port. Perhaps most notably is the 1500-mAh battery which should give significant battery life, even with moderate-to-heavy daily use.
The phone will be released through
Verizon
.