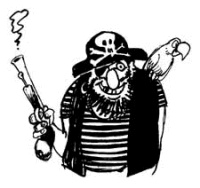 Speaking at a seminar for the
Cinema Expo
this week,
Paramount Pictures
COO Fred Huntsberry said that average Joe unauthorized movie downloaders are no longer Hollywood's biggest threat, with that spot being taken by "Cyberlockers," illegal subscription services.
Huntsberry says cyberlockers are usually run by mobs in foreign nations, which download hot pirated films, then sell them to the public in unlimited
streaming
for as low as $5 a month for a subscription.
"Cyberlockers now represent the preferred method by which consumers are enjoying pirated content,"
says the COO, via
Reuters
.
Cyberlocker businesses normally operate from Russia, Ukraine, Colombia and Germany, and most sties even have ads from such big-time names like
Netflix, KFC
and
Samsung
, which have unwittingly been placed there.
"Sometimes these sites look better than the legitimate sites,"
adds Huntsberry.
"That's the irony."
Huntsberry warned that users of cyberlockers risk having their credit card information stolen.