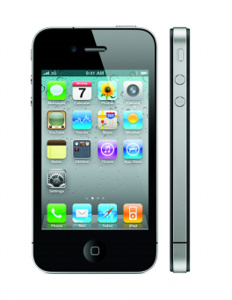 After a more than a week of
dismissing iPhone 4 user complaints
about reception problems and dropped calls as a non-issue, Apple has announced they're working on an update to the phone's OS.
The announcement follows an interesting report on AnandTech showing the actual difference in Signal to Noise Ratio (SNR) for each additional bar of signal displayed on the phone varies wildly. SNR is essentially an indicator of the phone's signal quality.
In the article,
published
earlier this week, Brian Klug & Anand Lal Shimpi showed that the signal quality increas from 4 bars to 5 is greater than the difference going from 1 bar all the way up to 4.
An update to solve the problem sounds like just what iPhone users were demanding. Except that the fix is only cosmetic.
While it should make the number of bars displayed more meaningful, that doesn't address the actual reception. Also in the AnandTech article is a comparison of signal loss (attenuation) between the iPhone 4 and other handsets when held in various ways.
Steve Jobs has noted in some tersely worded emails to dissatisfied customers that all phones suffer from attenuation when you hold them in your hand. But AnandTech's data shows the external antennas on the iPhone 4 drastically increase the effect.
In fact, the iPhone 3GS showed less signal loss than the iPhone 4 in every position, both with and without a case.
The HTC (Google) Nexus One was also tested, and showed significantly less attenuation than the iPhone 4 with the case removed. With each phone in a case the attenuation was nearly identical.
The good news is you should have a better idea of the signal quality your iPhone 4 is receiving when Apple releases the update in a few weeks. But if you're having reception problems, Apple's message hasn't changed.
The update announcement proudly proclaims,
"We have gone back to our labs and retested everything, and the results are the same— the iPhone 4's wireless performance is the best we have ever shipped."
In other words they're denying any reception problem exists.
It ends with a reminder that you can return your iPhone to an Apple Retail Store or the Apple Online Store within 30 days of purchase.