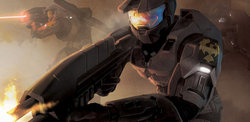 Just like its predecessors
Halo 2
and
Halo 3
,
Halo: Reach
has been leaked this weekend, with modders at
Game-Tut
finding a way to download the game from
Microsoft's
own servers.
Microsoft
has been hosting the full game online.
Only a few people were allowed to download the game, and each needed a special code.
Game-Tut cracked the security, and has made the files available via
P2P
, torrents and
warez
for the public as
[JTAG] Halo Reach RF ISORip XBOX360-XB3
.
Gamers have already uploaded videos showing off battles in the game's Firefight mode.
Microsoft's response (
via Joystiq
):
"We are aware of claims being made regarding a security exploit related to Halo: Reach and are aggressively investigating the matter. We have no further details to share at this time."