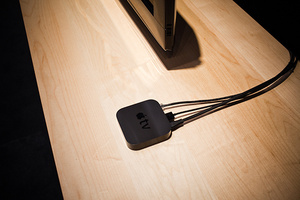 Apple's
recently released quarterly earnings revealed that the company sold 250,000
Apple TV
set-top devices as of the end of September, three weeks after its launch.
Says CEO Steve Jobs:
"We're happy with how it's turned out."
Jobs says he expects sales to pick up with the release of iOS 4.2, which will allow owners to stream their own content in addition to the content they downloaded from
iTunes
.
Available for $99, the updated Apple TV drops the hard drive of its predecessor and is now small enough to fit in your hand.
The device streams movies from the Web or from smartphones/tablets directly to your
HDTV
.
Additionally, the second-generation device streams movies from Netflix's ever expanding "Watch Instantly" catalog and
HD
movies purchased through iTunes.
The Apple TV has built-in Wi-Fi and an
HDMI
output.
Pic via Wired