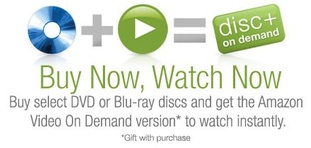 Amazon
has expanded their
Disc+ On Demand
program to over 10,000 titles this week.
Disc+ is a program that gives customers a chance to watch digital versions of movies they have purchased on DVD/Blu-ray via Amazon Video on Demand.
When a customer purchases a
Blu-ray
or
DVD
title from Amazon, if it is a Disc+ title a digital copy will be added to your Video On Demand library.
The copies are playable on PCs, Macs and all Amazon VOD-compatible devices and HDTVs.
"When we launched Disc+ On Demand last year, we were excited by the overwhelmingly positive response from our customers,"
added Steve Oliver, category leader for Amazon.com DVD.
"Customers love instant gratification, and this program allows customers to watch Disc+ On Demand titles instantly, without having to wait for their DVD or Blu-ray to arrive in the mail."
You can check all the titles here:
Amazon Disc+ Catalog