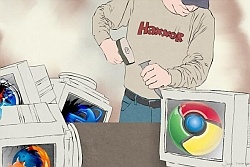 Two days into the Pwn2Own hacking challenge, only a few still remain.
So far, hackers have not been able to exploit
Mozilla
Firefox 3.6,
Google Chrome
, and the mobile Android OS.
Victims of the contest include Internet Explorer 8,
Apple
Safari
5, iOS 4 and BlackBerry.
All the security researchers who manage to exploit the browsers or operating systems take home a cash prize of $15,000 and a laptop. If
Chrome
gets beaten, the researcher takes home $20,000.
Charlie Miller beat the iPhone 4 with iOS and has taken home the prize in 2007, 2009, 2010 and this year.
Firefox fixed 10 security flaws the day before the contest started, and Google fixed 9. Chrome has yet to be defeated since its launch in 2008, while Firefox was beaten in 2009 and 2010.
Security researchers from VUPEN beat Safari 5,
rather easily
:
"We pwned Apple Safari on Mac OS X (x64) at Pwn2Own in 5 seconds."