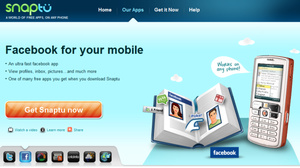 Snaptu has confirmed they have been acquired by Facebook, although the financial details have not been released.
Israeli business papers have estimated the purchase will cost the social networking giant $70 million at highest or $40 million on the low end.
Says Snaptu:
Earlier this year, we announced the launch of a new Facebook mobile application to give people a great mobile experience on a broad range of feature phones. The Facebook for Feature Phones app currently works on more than 2,500 devices.

We soon decided that working as part of the Facebook team offered the best opportunity to keep accelerating the pace of our product development. And joining Facebook means we can make an even bigger impact on the world.
Facebook's response:
As part of our goal to offer people around the world the opportunity to connect and share on mobile devices, we're excited to confirm that we recently signed an agreement to acquire Snaptu. We expect the acquisition to close in a few weeks, subject to customary closing conditions.

Snaptu is a startup run by a highly innovative collection of engineers and entrepreneurs, who we already work closely with to offer a Facebook mobile application for feature phones.

As part of Facebook, Snaptu's team and technology will enable us to deliver an even better mobile experience on feature phones more quickly.
Snaptu and Facebook had already teamed up to launch an application for feature phones and the social site will use the company to develop, deploy and maintain online services.
(
Pic via TC
)