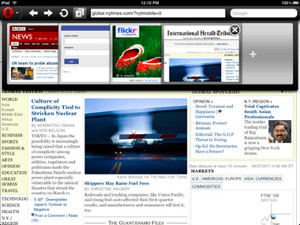 Opera
has released the Mini 6 mobile browser for
iOS
today.
The new browser is optimized for the iPad, and features up to 90 percent "
compression
of data traffic" which should increase speed for end users as well as decreased data costs.
Additionally, the new iOS version includes "panning and zooming in one motion," share buttons to send content to email, social networking sites and more, and a fully redesigned skin and menus.
Says CEO Lars Boilesen:
The Opera Mini browser has always kicked up the tempo when downloading pages; now the browsing flows along to a smooth, easy beat.
In April 2010, before the iPad's launch, Opera released Mini 5, which saw 1.2 million downloads in its first day.
(Pic via BI)