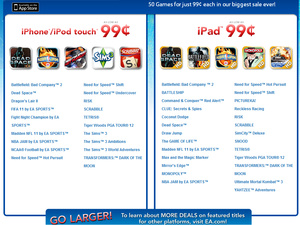 In honor of the July 4th holiday, Electronic Arts (EA) has dropped the price of many of their most popular
iOS
games to 99 cents.
One of the biggest discounts is "
Dead Space
," an original chapter of the popular console franchise which originally sold for $10 on iPad and $7 on iPhone
Another big winner is Madden NFL 11, the premiere console football game.
Among the discounted are classics like Tetris, Scrabble, Battleship, Snood and Risk and on the newer side is the brand new (released last week) Transformers: Dark of the Moon.
Check out all the games here:
http://www.eamobile.com/sale