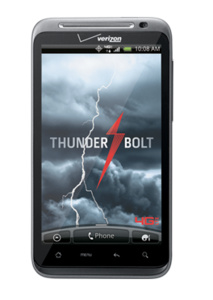 Since its launch,
HTC
Thunderbolt owners have complained over the excessive amounts of forced reboots caused by their device, having their phone just shut off at random points.
Both Verizon and HTC acknowledged the issue and said a software glitch was to blame, with a fix on the way.
While the update is not for Android 2.3, it is a large maintenance update.
Change log of the update being rolled out:
Improved data connectivity.
Enhanced Call History view.
Reduced number of device power cycles and resets.
Improved Bluetooth Discovery Mode pop-up window.
View App Menu in tabbed layout.
People search function enabled.
Backup Assistant has been added to the All Apps menu.
Preloaded My Verizon, V CAST Music and V CAST Videos.
Desktop cradle App is now available, showing clock in landscape m
NY Times site has been added into the browser bookmarks.