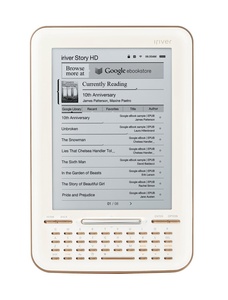 Google has launched their first e-reader this week, via a partnership with iriver.
The iriver Story
HD
will go on sale on Sunday at $140, the same price as the Kindle 3 and Nook Simple Touch.
Using the device, user can buy and read Google eBooks from the open eBooks platform, and the device is the first to integrate the store.
Google's e-reader is
"slim and lightweight with a high-resolution e-ink screen and a QWERTY keyboard for easy searching. It includes over-the-air access to hundreds of thousands of Google eBooks for sale and more than 3 million for free. With the Story HD you can now browse, buy and read Google eBooks with your e-reader through Wi-Fi, rather than downloading and transferring them from computer to e-reader with a cord as you can already do with more than 80 compatible devices."
The search giant adds they now partner with 250 independent bookstores and Google eBooks is available via
Chrome
Web Store, the Android Market,
iOS
App Store and all modern browsers.