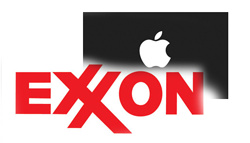 While the result switches every minute or so,
Apple
and Exxon Mobile are currently fighting to end the day as the world's largest publicly traded company, by market capitalization.
As of writing, Apple has a market cap of $341.11 billion, while Exxon has a market cap of $342.78 billion. The companies have been interchanging over the past half hour, and at one point Apple was the biggest publicly traded company in the world.

Exxon is one of the largest oil companies on the planet, but has taken a hit recently alongside the decline in crude oil prices.

Apple, the most profitable smartphone maker on the planet, and the market share leader for tablets and media players.

While both companies are the largest publicly traded in the world, they are certainly not the most valuable, as the Saudi Arabian Oil Company is said to be worth $1.2 trillion.