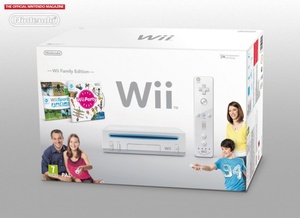 Nintendo
has announced today the launch of a new slimmed down
Wii
console, part of the "Family Edition" bundle, which removes
GameCube
support.
The console will come bundled with a Wii Remote Plus + Nunchuk,
Wii Party
and
Wii Sports
.
So far the console, which is 30 percent smaller than the original Wii, has only been announced for the UK, with a release date of "before Christmas."
The Wii (Slim) will sit horizontally and saves space by removing GameCube memory card and controller slots.
There will likely be more bundles announced in the coming month,
added Nintendo
.