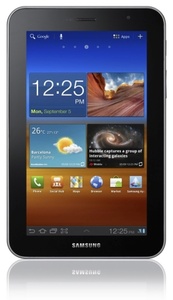 Samsung
has added another small form factor tablet to their line.
The Samsung Galaxy Tab 7.0 Plus has
Android
3.2, runs on a 1.2GHz dual-core processor,
802.11n
Wi-Fi, 4G, 16GB or 32GB internal storage and a
microSD
slot.
Samsung now has a 7-inch tablet, a 7.7-inch model, an 8.9-inch option and a 10.1-inch tablet.
The company
says the tablet
will launch in Indonesia and Austria at the end of October, and everywhere else, afterwards.
There was no word on price, but with the Kindle Fire coming in November at $199 the consumer is not likely to pay over $300.