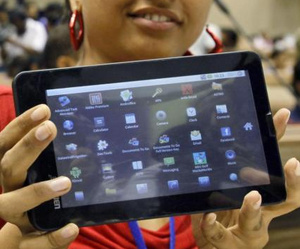 Kapil Sibal, India's telecommunications minister has said today that the government will sell 100,000 tablets at 1,100 rupees ($22 USD) in an effort to boost computer literacy.
The government will first buy the devices from DataWind for 2250 rupees ($46 USD) and then sell the tablets at a subsidized price to schools in the nation.
India will then purchase 10 million tablets over the next 5 years.
The country has one of smallest computer penetration rates, with only 4.2 for every 100 Indians.
Says one analyst (via
Bloomberg
):
It's going to increase the desirability of computing devices for people who wanted them but couldn't afford the price tag. People who are using this device are not going to get the seamless experience of an iPad or a Samsung. There's no comparison.
The Aakash tablet runs on
Android
, has a 366MHz processor, 256MB
RAM
, 2GB internal storage, two USB ports, Wi-Fi and cellular connectivity. Additionally, to keep prices at their extremely low point, the battery only has 3 hours of life per charge.