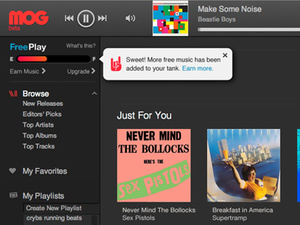 MOG, the unlimited music
streaming
service, had a good month and plans for bigger one this month.
In September, social networking giant Facebook launched their music platform which allows users to stream and share music via
Spotify
, Turntable.fm, Vevo, MOG and others.
Thanks to the integration, MOG saw 264 percent growth, moving to 160,000 average users in October.
The company
says the growth isn't just a spike
, and they now expect an average 2 million users by the end of the year.
MOG offers a free version of the streaming service to Facebook users.
"This is the best distribution platform we've ever had,"
noted MOG CEO David Hyman.