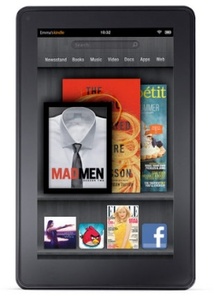 From the time
Amazon
started taking orders for their
Kindle Fire
tablet earlier this year, it has looked like
a runaway hit
with consumers. Before the first customer got a single tablet in his hands, sales were estimated at
over a million
units.
While Amazon may not have the brand name appeal of
Apple
or the screen size of the
iPad
, the $199 pricetag and generally impressive technical specs have proven to be major motivators for consumers.
As people have started using the new device, some of the luster seems to be wearing off a little. While it has received a lot of four and five star reviews on
the Amazon website
(more than 3,000 in all), the number of one and two star reviews (more than 1,000) is also notable.
An Amazon spokesman
recently told
the New York Times the company has an update in the works which should address many of the problems, including performance, multitouch functionality, and an inability to lock the screen.
Reading through the negative reviews of the product, they certainly seem to be primarily software issues. That certainly makes it seem like Amazon has every chance of making things right. At the same time, many of the complaints are about things Amazon may not want to change.
Among them are numerous people who aren't happy with the fact they can only sync content from the cloud if it was purchased from Amazon. Keep in mind, the reason Amazon sells the Kindle Fire at such a low price is a belief it will sell more content. Any change they perceive as counter to that goal may not be coming any time soon.
If problems with the Kindle Fire do turn customers off in the long run, there is another tablet already poised to take advantage of it. Priced just $50 higher than Amazon's table,
Barnes & Noble
's
Nook Tablet
has already gotten recommendations from some of the Kindle Fire's harshest critics.
The Nook Tablet features nearly the same hardware as the Kindle Fire,
slightly better
in some ways and slightly inferior in others. Just as importantly, it is being sold by Amazon's chief competitor in the eReader market. Don't forget, the surprise success of the
Nook Color
last year was a major factor in Amazon's decision to produce a tablet.
There are also rumors Apple will soon be making a 7" tablet, although given the premium price for Apple products, it's unlikely to be much of a direct competitor - if it will exist at all.