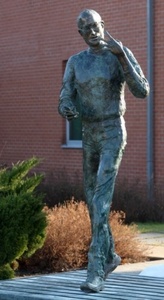 Steve Jobs has been awarded a posthumous Grammy by The Recording Academy.
The recently deceased
Apple
founder is a recipient of the Trustees Award for his contributions to the music industry.
Reads the news release:
"As former CEO and co-founder of Apple, Steve Jobs helped create products and technology that transformed the way we consume music, TV, movies, and books. A creative visionary, Jobs' innovations such as the iPod and its counterpart, the online iTunes store, revolutionized the industry and how music was distributed and purchased."
Apple also received a Grammy in 2002 for its contributions to the recording industry, mainly iTunes and the iPod media players.
Additionally, Steve Jobs was immortalized by a bronze statue in Hungary commissioned by Graphisoft, who says its professional relationship with Jobs stretches all the way back to the early 80s. (
Pictured
)