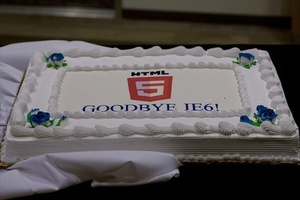 Microsoft
has celebrated the death of Internet Explorer 6 in the U.S. with a cake frosted with the phrase, "Goodbye IE6!"
The software giant has made it a priority to kill off the decade-old browser, and it appears they have finally succeeded, at least in the U.S. Microsoft says that only 0.9 percent of users were running IE6, as of the new year.
Microsoft used data from
Net Applications
, which tracks notable data from browsers, operating systems and mobile applications.
"IE6 has been the punch line of browser jokes for a while, and we've been as eager as anyone to see it go away,"
added Roger Capriotti, the head of IE marketing.
IE6 debuted in August 2001, alongside the first
RTM
of Windows XP.
Microsoft says that most of the IE6 users in the world are now in China, and NetApp says there are such a large amount that IE6 still amounts to 7.3 percent of global browser share. Many of the Chinese users are running pirated Windows XP operating systems, which came integrated with IE6, and are likely too uninformed or scared to try to update and tip off Microsoft to their piracy.