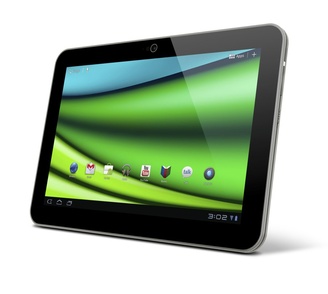 Toshiba
has announced the Excite X10 tablet today at the
CES
event, the world's thinnest tablet.
The X10 is just 7.7mm thick, very impressive for a 10.1-inch IPS display. For comparison, the iPad 2 is 8.8mm thick. Additionally, the tablet has a Micro USB port, a Micro
HDMI
port, an
SD
card slot and a dock connector.
Toshiba's latest tablet runs on a dual-core 1.2GHz processor with 1GB of
RAM
, along with a 2MP front facing camera and a 5MP rear facing camera. The device will come with either
Android
3.2 or Android 4.0 ICS, it is unclear so far.
BI
says the tablet is made out of magnesium alloy instead of the titanium seen in other tablets, which makes it lighter, "but not as resilient."
The Excite X10 will go on sale in the "first quarter of 2012" for $529.99 (16
GB
) and $599.99 (32 GB).