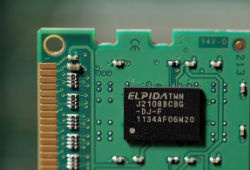 The Japanese chipmaker Elpida Memory, whose CEO noted the company's "uncertain future" earlier this month, has filed for bankruptcy protection.
Elpida's move is the largest corporate failure for a Japanese manufacturer since World War II.
Liabilities, as of March 2011, were $5.5 billion and the company's desperate attempts to refinance or get a bailout from the Japanese government failed.
Elpida was Japan's last DRAM maker and the company was ultimately done in by a Yen at its strongest levels since the end of World War II. Furthermore, South Korean rivals like
Samsung
managed to take large market share in a short period of time thanks to cost efficiency.
Samsung had 45 percent share as of September 2011, followed by Hynix at 21.5 percent and then Elpida and Micron at 12.1 percent each.
The company hopes to re-emerge under the supervision of the Tokyo District Court, says the
WSJ
.