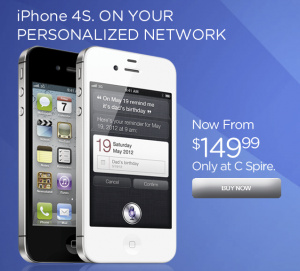 The U.S. regional carrier C-Spire has lowered the price of the base
iPhone 4S
to $150 with contract.
Additionally,
it has dropped the cost
of the 32GB and 64GB models to $249 and $349, with two year contract, as well.
C-Spire became the fourth carrier in the U.S. to get access to the iPhone when it signed a deal last year. C-Spire was formerly known as Cellular South and has over 1 million customers in just 4 states.
The carrier uses the
EV-DO
3G network used by Sprint and Verizon and customers can jump on the big carrier's networks whenever they roam out of the south east.
C-Spire offers unlimited everything (with no throttling) for $100 per month.