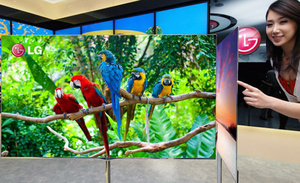 Earlier this year, tech giant
LG
Electronics introduced the world's first 55-inch OLED
HDTV
.
The TVs finally have a release date, at least for Europe, where they will go on sale on May 16th.

LG has priced the TV at nine million won ($8000), and the TV will have an unveiling party in Cannes where they will hold a movie premier at the much-heralded film festival.

"Starting in Europe, the company plans to advance marketing activities of its OLED TVs worldwide," said LG in a statement. The company had originally planned to release the TV in the fall but management believes a launch now will give the company the benefit of seasonal demand before the London Olympic Games from July 28 to August 12.

Said Beom Han, CEO and Executive Vice President of LG Display when the devices were introduced: "Our objective has always been to actively define and lead emerging display technology markets. Although OLED technology is seen as the future of TV display, the technology has been limited to smaller display sizes and by high costs, until now. LG Display's 55-inch OLED TV panel has overcome these barriers."