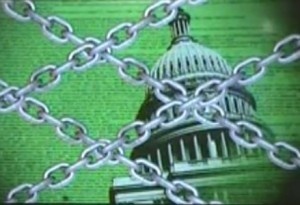 28 companies have revealed support for the new "Cyber Intelligence Sharing and Protection Act of 2011 (H.R. 3523)."
The act was introduced by Rep. Mike Rogers and Rep. Dutch Ruppersberger and will
"allow companies or the government free rein to bypass existing laws in order to monitor communications, filter content, or potentially even shut down access to online services for 'cybersecurity purposes,'"
says the
EFF
. Furthermore,
"companies are encouraged to share data with the government and with one another, and the government can share data in return. The idea is to facilitate detection of and defense against a serious cyber threat, but the definitions in the bill go well beyond that. The language is so broad it could be used as a blunt instrument to attack websites like The Pirate Bay or WikiLeaks."
CISPA is similar enough to the recently defeated
SOPA
and PIPA bills, both of which had good intentions for copyright holders but severely missed the mark in regards to privacy and censorship.
The 28 companies are:
AT&T
Boeing
BSA
Business Roundtable
CSC
COMPTEL
CTIA - The Wireless Association
Cyber, Space & Intelligence Association
Edison Electric
EMC
Exelon
Facebook
The Financial Services Roundtable
IBM
Independent Telephone & Telecommunications Alliance
Information Technology Industry Council
Intel
Internet Security Alliance
Lockheed Martin
Microsoft
National Cable & Telecommunications Association
NDIA
Oracle
Symantec
TechAmerica
US Chamber of Commerce
US Telecom - The Broadband Association
Verizon