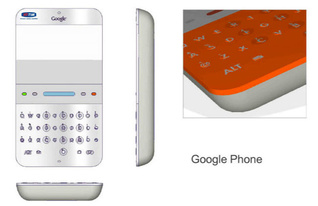 In 2006, two years before the release of the grandfather of
Android
, the T-Mobile G1, Google had concepts down for the original "Google Phone."
Google was going around showing off the concept device to carriers, looking specifically at T-Mobile and their unlimited data plan.
The designs are now public thanks to the ongoing Oracle lawsuit against Google over Java patents. In Google's original presentation for the Google Phone, one slide blatantly says [we plan to]
"Leverage Java for its existing base of developers. Build a useful app framework (not J2ME). Support J2ME apps in compatibility mode. Provide an opTMobileized JVM (Dalvik)."
What Google had in mind for the original phone was an ARMv9 processor running at a minimum of 200MHz,
GSM
(3G preferred), 64MB of
RAM
and ROM,
miniSD
external storage support, a 2-
megapixel
camera with a dedicated
shutter
button, USB support, Bluetooth 1.2, and a
QVGA
display with at least 16-bit color support. In 2006, these specs would have been very close to top of the line, but seem quite laughable now.
Additionally,
Google did not have touchscreen support as a requirement originally
, and baseline specs called for two soft menu keys. Optional specs were Bluetooth 2.0, Wi-Fi,
GPS
, hardware graphics acceleration and a QWERTY keypad, all of which came together in the GI in 2008.
During the original plans, Google already had an early, early alpha of Android, which included a working dialer, messaging app, contacts, home screens, and broken versions of
Google Talk
, Gmail, Calendar and the WebKit-based Android browser.