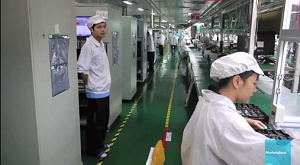 Workers at a Foxconn factory in China have threatened jumping off the roof in protest over wages just a month after the company signed an agreement to improve working conditions.
200 workers from the plant in the city in Wuhan were protesting concerned workplace adjustments for new workers to the plant.
Foxconn
says
the situation has been handled:
"The dispute has already been settled after some negotiations involving the human resources and legal departments as well as the local government."
The recent agreement to improve working conditions came together after years of worker suicides at various plants.
Apple
, whose products were being built at many of the factories, took a stand with the manufacturer, leading to the deal.
Even before the deal, Foxconn workers were seeing raises regularly, with salaries jumping 21.2 percent in 2011, alone.