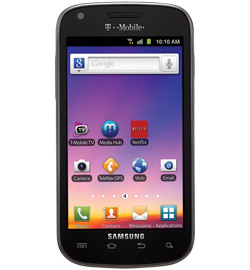 T-Mobile, the fourth largest carrier in the U.S., has had its share of nice phones over the years, especially on the
Android
side where it was the home of the first ever Android smartphone, the G1.
Intro
Today, we are reviewing the Galaxy S Blaze 4G, the carrier's follow-up to the now discontinued Galaxy S 4G.
The phone itself is decidedly "mid-end" on the scale of Android devices, but certainly does most things very well. Additionally, it has access to the HSPA+ 42Mbps network, meaning it is a 4G device (as if the name didn't give it away).
At a price of $99 with contract, the device is also within grasp of most buyers who are on the fence of what they want.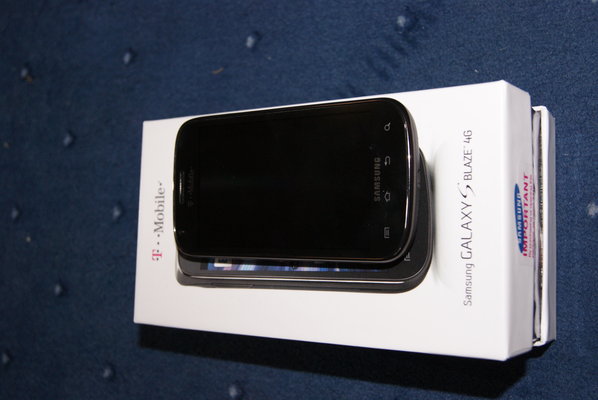 Specs
A quick look at the specs show the device to be very solid. The phone is powered by a Qualcomm APQ8060
SoC
with a 1.5GHz dual-core CPU and an Adreno 220
GPU
. The internal radio supports HSPA / UMTS on the 2100/1900/1700/850MHz bands and is also compatible with the 1900/1800/900/850MHz bands for slower EDGE data.
The device feels "small" (coming from a
Galaxy Nexus
owner like myself) but it really isn't. There is a 4-inch Super AMOLED display, a 5-
megapixel
standard camera with LED flash, a front-facing 1.3-megapixel camera for video chatting and a rather large 1,750mAh battery.
Under the hood there is 1GB
RAM
, 4GB of internal storage and a 4GB
microSD
card is included. As is standard, there is also 802.11a/b/g/n Wi-Fi support and
Bluetooth 3.0
and
NFC
. Exclusive to T-Mobile is "Wi-Fi Calling," which allows for calling over Wi-Fi instead of through cell service.
Tethering
and mobile hotspot are also allowed.
Design and Display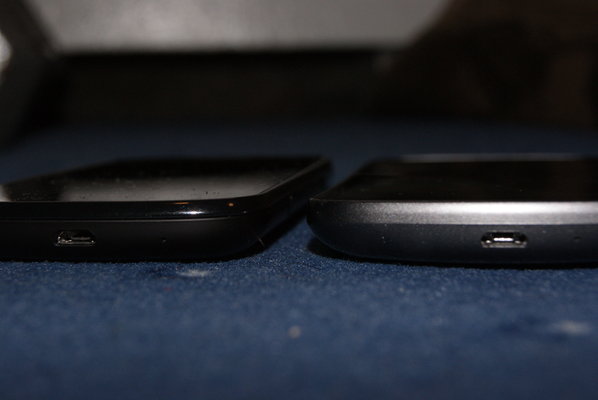 (Side by side with Galaxy Nexus)
In terms of design, the Blaze 4G is a very solid phone, albeit a bit "
fat
." The phone does not feel "cheap" like some other
Samsung
devices do, and it is not as heavy as it seems even at 4.5 ounces and 11mm thick. The outer bezel is made to look like chrome, and the camera/speaker area has a brushed metal casing. The back plate itself has a woven texture that is nice to the touch but feels slippery, even after extended use.
Along the bezel there are the standard microSD slot, power button, volume rocker and headphone jack. On the bottom center there is the micro-USB port for charging. Overall, as said, a very solid feeling phone.
Unfortunately, taking away from its nice design is its ergonomics. The phone was a bit awkward to use with two hands, as it is symmetrically shaped and becomes tight, even if you have smaller hands. Additionally, the volume and power buttons are embedded in the bezel, making them somewhat hard to find with the lights off.
For the display, the
WVGA
Super AMOLED has become a standard and its contrast is pretty exceptional. Like with other Samsung devices, the phone has PenTile matrix, making all text seem a bit blurry, and sorry for the lack of a better word, pixel-y. The pixelation is quite noticeable on the Blaze. The
resolution
of 480 x 800 is decent, but I've become accustomed to
720p
goodness of the Galaxy Nexus.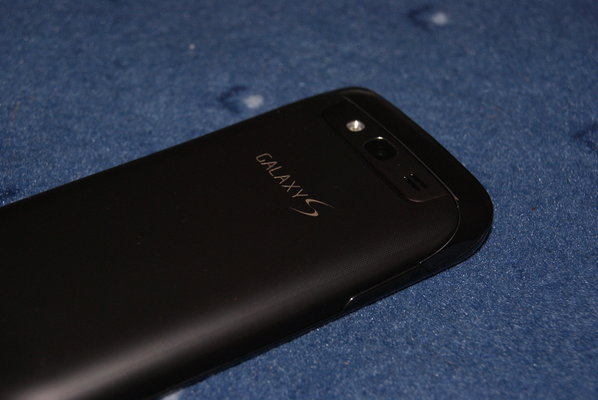 Performance
Not much too say here. For its specs, the phone is very fast and smooth. It appears Samsung has worked some
magic
with tuning the software of Android 2.3.6 and its own
TouchWiz
to get a phone that sees apps open almost instantly and all animations run without lag. Of course, this was tested on a brand new device, not one that has been bogged down with hundreds of your own apps.
As a T-Mobile customer, I've had no complaints for years with the connectivity and data services. On average, with the Blaze I was seeing 15Mbps downstream when connected to the HSPA+ (4G) network here in New York City. The HSPA+ network can technically reach 42Mbps but I'll be honest, I've never seen it.
Phone call quality was outstanding, and I would even say superior to my Galaxy Nexus. The other end of the line sounded crystal clear although I would argue the speaker was a bit too low in more crowded areas. Calling a few friends and family, two of them even asked me if I had gotten a new phone since it was much clearer. Not sure I'm too happy about that, but Blaze owners should be.
Battery Life
The Blaze has awesome battery life, frankly. As I write this, the battery has been going for 25 hours with very little use and is at 73 percent. With more moderate/heavy use, the device lasted me well over a day, nearing 28 hours. Without touching the phone, and leaving the screen off (with no Wi-Fi) with the occasional check on the battery life, the phone lasted just under 4 days. Impressive.
Camera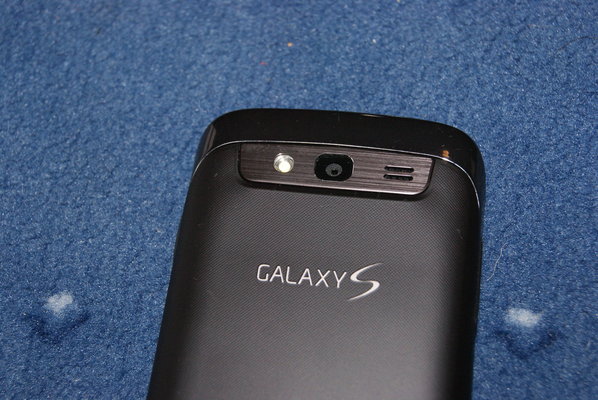 The 5MP camera can take decent photos, but nothing too extraordinary. I actually found the exposure and color balances to be off when done with just auto mode. Of course, you can get more control with different scene and white balance modes including
ISO
, EV and lighting.
For me, the photos, indoors and out, came free of
pixel
noise, but look blurry. The
shutter
lag is slow, as well, much slower than the Galaxy Nexus and other top phones like the iPhone. Was not too excited by the camera, to be frank, especially for someone who does not want to have to mess with settings before heading out to take a camera pic.
(Click on either to see larger shot)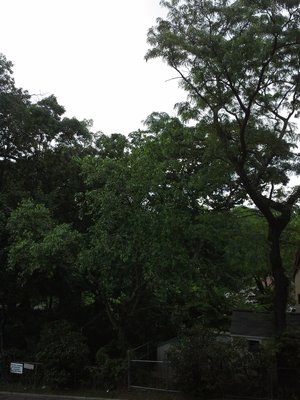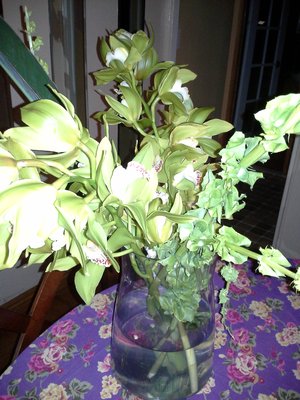 T-Mobile and Samsung software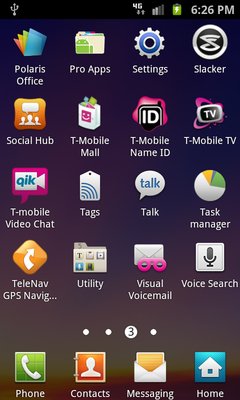 This section is certainly the worst part of the phone. The Blaze has Android 2.3.6 and Samsung's own UI
overlay
, the Touchwiz. On top of that, T-Mobile has added a ton of
bloatware
, so much so that you'll be begging for a custom ROM right after turning on the phone. Each home page has at least three apps or a widget you'll probably never use, forcing to clean up your home pages right from the start.
Nearly all of these apps require you to sign up or register for something and some even push notifications for an app you aren't registered with. Worst of all, you can't remove them, as they are locked down (for the most part). For example, right on the first home page is "T-Mobile TV," "Media Hub," "Telenav
GPS
" and "Netflix."
I was never a fan of TouchWiz and this is no different. You can create folders (like with Android 4.0) but you first have to go into a special editing mode. You then can't rename the folders you created, so you better make sure you don't mess up the first time. To me, TouchWiz is also less aesthetically appealing than vanilla Android.
Safe to say, using the Blaze makes me extremely happy for my choice to always stick with vanilla Android, especially 4.0, which should get to the Blaze, eventually, with no timetable set.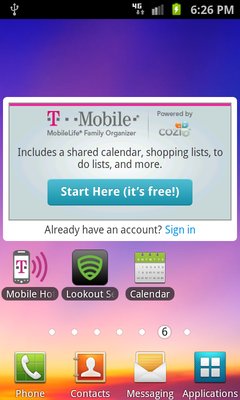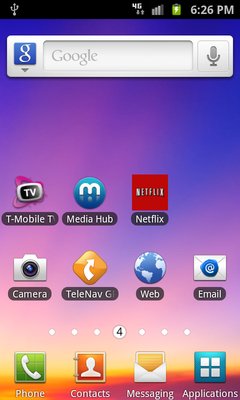 Conclusion
The Samsung Galaxy S Blaze 4G is a very good mid-end Android device, although the software, camera and ergonomics leave much to the imagination. That being said, if this phone were rooted and slapped with Android 4.0, the ratings might be a lot higher in most respects.
Specs 7/10
Design 7/10
Display 7.5/10
Battery Life 10/10
Performance 8.5/10
Camera 6.5/10
Software 4/10
Overall 7.15/10