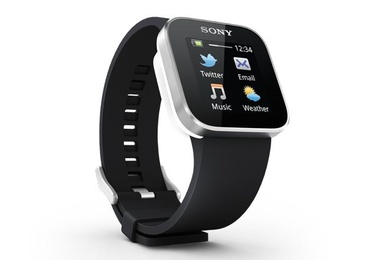 Verizon has begun selling the
Sony
SmartWatch and accessories.
Available for $150, the watch connects to
Android
2.1+ devices via Bluetooth and gives users a chance to read messages, emails or access social networks from their wrists.
There are also 60 "mini-apps" available, including a music player and some games.
Full spec list:
Dimensions: 1.42 X 1.42 X 0.3 in
Weight: 0.55 oz

Display: 1.3" OLED display, 128 x 128 pixels

Compatibility: BluetoothTM 3.0 and AndroidTM 2.1 or above Connectivity: Standard USB charging

Battery life: Up to 4 days

Language support for: English, Spanish, French, Chinese (Traditional), Portuguese, Swedish, Russian, Danish, Polish, Japanese, Czech, German, Modern Greek, Dutch

Notifications: Display notification or vibration

Apps: All events (displays in chronological order), Messaging (SMS/MMS), corporate E-mail (for SonyTM and Sony Ericsson Android phones), Gmail (for all other Android smartphones) Calendar Notifications, FacebookTM, TwitterTM, Music Player, Call handling (call, mute, reject, or answer and send pre-defined SMS), Pre-defined SMS, e.g. missed calls – I'm busy, messaging - call me, email – ok, Battery strength, Find phone, and Weather widget. Plus lots of apps on AndroidTM market.
The device will have to compete with newcomer "
Pebble
"
which set the record for Kickstarter funding
at over $10 million.