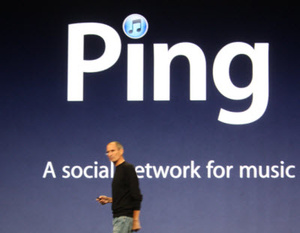 According to multiple reports,
Apple
is preparing to kill of its failed Ping music social network.
Ping was launched in September 2010 to little fanfare, and has remained unpopular amongst Apple users.
If accurate, the
reports claim
Ping will disappear with the release of
iTunes
10.6.4 and
iOS
6, set for release in the fall.
One analyst believes Apple will now focus on integrating better with Twitter and Facebook:
"It's fair to say Ping has been a flop,"
said Zeus Kerravala, an analyst with ZK Research.
"I think it was always too limited... It makes all the sense it the world to leverage the large social networks that are out there."
"Apple doesn't fail at things very often,"
concludes the analyst.
"The lesson is to stick to your core competency and leverage what's available... But if you don't fail at things, you're not taking enough risks. You're always being safe. The key is to know that if you've failed, not to continue throwing good money after bad and they're not doing that."