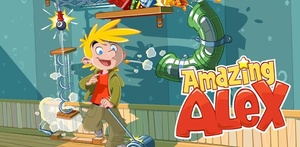 Amazing Alex, the latest game from Angry Birds creator Rovio has jumped to the top of
iOS
game downloads in its first day of availability.
The game, which is of the chain reaction puzzle variety, costs $0.99 for the iPhone and is the top app in 35 countries. The iPad version, at $2.99 and in
HD
, took the top spot in 50 nations.
On
Android
, the game, which is available for free with ads, ad-free, and in HD at the same price points as iOS, is creeping into the top 10.
It appears that Apple's promotion of the game in 107 countries has significantly helped Rovio's chances at success.