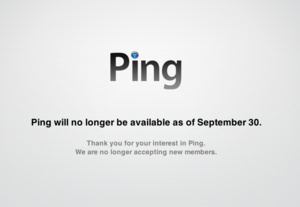 Apple
has confirmed it will be shutting down its failed Ping service on September 30th.
The company is no longer accepting new members, either.
Ping was a software-based, music-oriented social networking and discovery system service that worked in conjunction with
iTunes
.
Although it launched with over a million members in 23 countries in 2010, it never gained traction and Apple effectively put the final nail in the coffin earlier this year by adding Facebook and Twitter integration into iTunes.
In May, CEO Tim Cook admitted Ping's failure, stating,
"I think the customer voted and said this isn't something I want to put a lot of energy into. Apple doesn't need to have a social network."