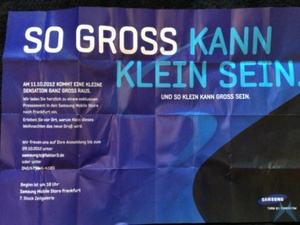 Samsung
is making a major announcement next week, and the general consensus is the company will release the so-called
Galaxy S III
'Mini.'
The event will take place in Germany, and the Korean giant has sent out invites with hints as to what they are unveiling.
In the invite, the Galaxy S logo is found in the background and the title directly translates to "So big can be small, and small can be big." Additionally it says "On 11.10.2012 comes a small
sensation
out of [something] really big."
These hints have led most to believe the "Mini" is coming, as rumored.
The rumored device will have a 4-inch display with 480x800 display, a dual-core Snapdragon, 5MP camera and
Android
Jelly Bean
.
At an undoubtedly a cheaper price tag than its older brother, the mid-range device could be another hit.