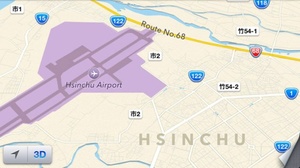 The Taiwanese government has asked
Apple
to blur some of the images in its Apple Maps mapping service.
The images are of the Hsinchu airbase, where the military recently added a new
radar
defense system. The station will help the country detect if any missiles are fired from nearby nations, most notably China.
Legally, no one can force Apple to change the images (sensitive area or not), but the nation has asked for the blur as a gesture of goodwill.
There are blurred areas in rivals mapping services, such as Google's, but all of their blurred areas were purchased that way.
Apple made headlines when it launched
iOS
6 with Apple Maps, leaving out Google Maps, the current gold standard. The service is so bad it
spawned its own Tumblr page
.