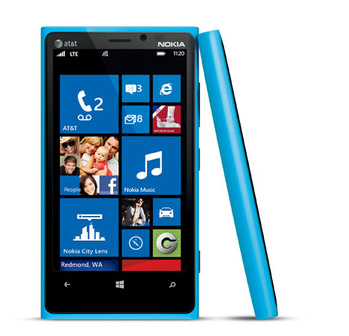 AT&T has confirmed that it has an exclusive deal to market and sell the upcoming
Nokia Lumia 920
.
What the carrier did not reveal, however, is how long that exclusive would last.
A new report today claims that AT&T has a full 6 month exclusivity pact, leaving Verizon, T-Mobile and Sprint users in the dark until at least April or May.
The 920 has a nice 4.5-inch TrueBlack display and a fast dual-core S4 Snapdragon processor. The phone also offers a curved glass display just like the
Lumia 800
before it. A new addition to Windows Phone is a
microSD
slot. Always fans of nice cameras,
Nokia
brought the PureView software from its 808 phone, adding that the camera catches 10x more light than other smartphones, making it ideal for dark shots.
A new feature is 'City Lens,' an augmented reality piece of software that 'overlays details about nearby points of interest or businesses onto the phone's display - providing information including reviews, ratings and contact information for nearby shops or restaurants at a glance,' says ZD.
On the navigation side, the 920 brings the completely offline maps, and adds walking directions between all public transportation locations.
The 2000mAh battery uses wireless charging based on the Qi interoperability standards. Nokia has partnered with a retailer to create the 'recharge pillow,' which will go on sale too.