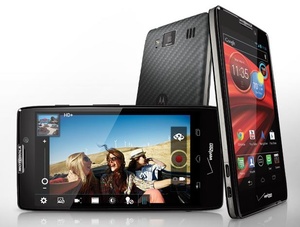 Verizon has launched the new
Motorola
RAZR
HD
and RAZR MAXX HD flagships.
Starting with the Maxx HD, the phone has a 4.7-inch, 1280-by-720 Super AMOLED HD display with 312 pixel-per-inch density and Motorola's own ColorBoost technology which makes for 'more vibrant color reproduction.'
The phone is powered by a 1.5GHz dual-core Snapdragon S4, which should be as efficient and powerful as quad-core equivalents. Inside is 32GB internal storage and a massive 3300mAh battery. Dual cameras 8/1.3MP are standard as is a
microSD
slot,
NFC
,
LTE
and an
HDMI
port.
At launch, the device will have
Android
4.0.4, with a
Jelly Bean
update expected before the end of the year.
The Razr HD shares the same exact specs except it has 16GB internal storage and a smaller 2350mAh battery, along with a smaller price tag. Neither has removable batteries.
Each will be available through Verizon selling for $299.99 (Maxx HD) and $199.99 (Razr HD), respectively. If you want to keep your grandfathered unlimited
bandwidth
, you will need to pay full price which is a shocking $629 and $729.