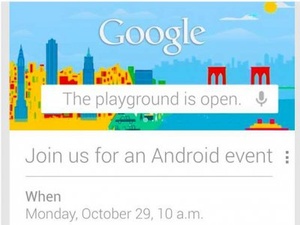 Earlier this week, Google sent out press invites for an event on October 29th.
Today, TNW is reporting that Google will use the event to not only introduce the new Nexus 4, but also to unveil the rumored 10-inch Nexus tablet with
Samsung
.
The "premium" Nexus 10 tablet will have Samsung as the manufacturer and include a massive
pixel
density, higher than that of the iPad's
Retina Display
.
If accurate, the sources say the tablet will have a 2560 x 1,600 display and a PPI of 299. The third-gen iPad has 264 PPI and a 2,048 x 1,536
resolution
.
Furthermore, Google will also unveil
Android
4.2, which includes new features like "Tablet Sharing," "Content in the Center" and new vertical panoramic photo
capture
, as well.