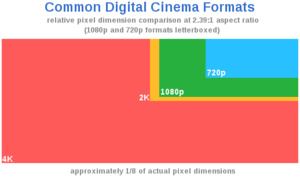 The large
resolution
display format "4K" will now be known as "Ultra
High Definition
" for consumers.
The
Consumer Electronics Association
(
CEA
) made the announcement this week, claiming the new name would make it more clear for consumers that the displays have a resolution above
Full HD
1,920 x 1,080 pixels.
Ultra
HD
will require resolution of 3,840 x 2,160 pixels vertically, the CEA said. Furthermore, any Ultra HD display will require at least one 4K-capable digital input and be able to display 4K content natively without upconverting.
"This new terminology and the recommended attributes will help consumers navigate the marketplace to find the TV that best meets their needs,"
concluded president and CEO of CEA Gary Shapiro.