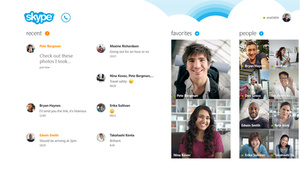 Microsoft
has unveiled the long-awaited
Skype
for Windows 8, which will be available starting on Friday with the launch of the Surface and other Windows 8 products.
The company says the software will be a brand new experience, with contacts and messaging placed at the forefront. Right after the client is launched, recent chat bubbles, messages and your most frequently messaged contacts will appear.

"Skype has also made it even easier for you to call landlines or mobile phones directly, with a new modern dial pad," added Mark Gillett, chief development and operations officer at Skype. "You can easily see how much Skype Credit you have along with active subscriptions and your recent calls all in one easy view."

As with most new apps, the new Skype will show up in Windows 8 as a live tile, including notifications for any missed calls or messages.



Microsoft purchased Skype for $8.5 billion last year, ensuring the popular international video chatting service is available on all Windows devices into the future.